Why Do You Choose to Date the Men You Do?
Over the past 20 years I've received more than 250,000 letters from women all over the world, confused about why the relationship they wanted so badly isn't working out.
From the outside looking in, it's clear to me that most of these relationships were with the wrong guy – a fella the woman had no true long-term compatibility with. Frequently my thought was: "He may be interesting, but he is obviously not interested in you!"
Advice seekers didn't seem to understand what they were doing wrong, and I found myself repeatedly giving them examples of behaviors that clearly showed this "relationship" was on the fast track to a crash and burn. Some examples are:
He says repeatedly that he really wants a girlfriend, but he's cancelled the last few dates with one weak excuse after another.
Or he says he's going to take you out and that the two of you will have a great time together, but at the last minute he "doesn't feel like going out" and suggests another night in with Netflix and pizza.
Or perhaps the day you met him he promised to call but never does, even after you left him a message with your number again in case he lost it.
Or you've been dating for a few months when you find out he cheated once and you forgave him, but just today you found out that he cheated again.
Or he seems to avoid talking to you on the phone because when you call he never picks up, but he texts constantly all through the day and night.
Or he waffles on commitment and doesn't seem to want to move forward because "I'm not ready yet", even after a year or more together.
What gives?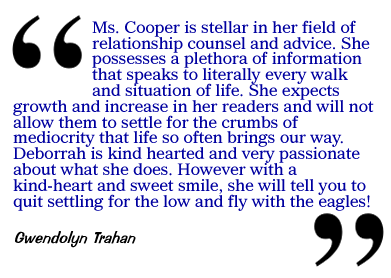 You wished and hoped for a loving man to come into your life and sweep you off your feet with love and romance. Just like the stories you read as a little girl. You want to meet your Prince … your King… and live happily ever after.
But all you seem to do is meet one warted frog after another, going in circles in one short-term relationship after another that leave you unhappy and confused.
Today is the First Day for a Different Type of Dating Experience!
This book contains real world examples of dating attitudes and misconceptions that shoot women in the foot every time, so you can SEE the mistakes in action.
Simple to understand instructions on how to quickly and easily screen undesirables OUT and sincere men IN.
Easy to understand guidelines for modifying your dating behaviors that will make you a winner
Many women don't understand that dating is a game which must be played to win!
This book takes you one by one through some of the most common mistakes women make, explaining WHY these behaviors are wrong and what you should do instead.
Though it is true that women pick their man, it seems that far too many women have one or more of these five dating challenges which are contrary to choosing the man who would be most compatible:
#1 They look for chemistry, sparks and romance (We focus instead of character, personality and long-term compatibility)

#2 They never seem to make it past the first date or two with guys they really like (we explain what can go wrong on early dates)
#3 They give any man who expresses an interest a chance no matter how unsuitable he may be (We give you permission to and teach you how to say "no!")
#4 They spend too much time in a dead end relationship that is going nowhere trying to "make it work" (We show you how to analyze red flags so you can extricate yourself quickly from a relationship that makes no sense)
#5 They do everything they've been told to do – put men on a pedestal, submit and boost his ego – yet they still get dumped. (We show you how to be there for your man without losing yourself in the process)
Advice from a Dating Expert with Decades of Experience - No newcomer to the relationships field, Deborrah Cooper has conducted studies, interviews, and written articles/advice for singles for more than 20 years under the pen name Ms. HeartBeat.
Learn How to Read a Man's Dating Blueprint - Words, attitudes and actions can easily entice you into a dysfunctional relationship, but this book shows you how to avoid the drama
Techniques Proven to Work - Hundreds of testimonials attest to the fact that Ms. Cooper's no-nonsense analysis cuts right to the core of the issues and refocuses women on the things that are important
Convenient Electronic Format - Easily refer to your book on dates, at work, or on a plane with your Ipad, Kindle, laptop or phone.
Improve Your Dating Skills - A dating skills builder that helps you improve your confidence, communications skills and let your personality shine.
Avoid Wasting Time on a Man Who is Not Really Into You - Techniques to let you know whether or not he is interested in a serious relationship or just having fun chasing skirts.
Date Smarter Not Harder - Numerous other tips and strategies that will make you a better dater.

This eye-opening new book is a must have guide for single women everywhere that want to avoid wasting their dating time with men that are poor choices and incompatible with her goals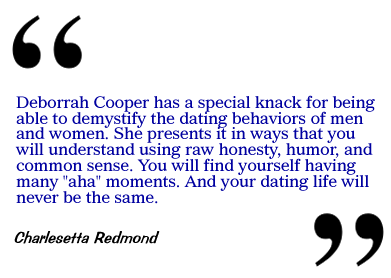 Written by a woman for women, 101 of the Worst Dating Mistakes Single Women Make sets out, clearly and in an organized, easy to follow style, the mistakes women make from the first conversation through several months of dating. Helping you to analyze the attitudes and behaviors you may be exhibiting which are preventing you from establishing and maintaining a relationship with the quality man of your dreams.
This book is for you if you're:
Tired of going on dates with high hopes, only to discover you are out with an ill-mannered, sex-crazed cretin


You're sick of always being the one doing all the work trying to "keep things going" or "make it work"

You're weary of having that sick feeling in the pit of your stomach, wondering how much he cares or if he even cares at all

You are determined to set an example of healthy boundaries and a healthy mutually interdependent relationship for your daughter(s)

You're finally ready to take charge of your dating relationships and turn things around!

101 of the Worst Dating Mistakes Single Women Make is a downloadable Ebook, regularly priced at only $9.99. We can't compare it with "other products" because there is nothing like this on the market today! But the great deal is if you are one of the first 100 people to order this book, you will receive a 25% discount and pay only $7.50.

From childhood, women have been taught reading, writing, math, science and history. However, there were no classes in school that showed single women how to meet and successfully date men.
Unfortunately, most women miss numerous opportunities to date the man of their dreams because they simply don't know how to establish rapport with appropriate questions and pointed conversation, and they don't know how to quickly get rid of unsuitable men without worrying about "being nice."
101 of the Worst Dating Mistakes Single Women Make solves these problems by providing the information and tools needed to have a successful love life.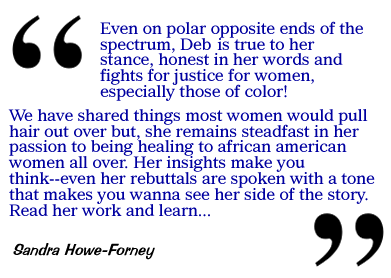 Sign up for the Notification email list so you can be one of the first to place your order for this revealing and highly informative work of advice columnist Deborrah Cooper.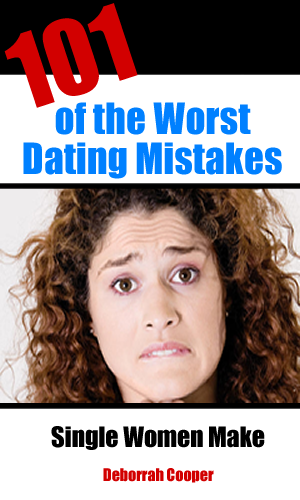 Remember, the first 100 people who order get their copy for only $7.50 – a whopping 25% off the regular price.
---
Join my Notify List and get email when the book is available for purchase:email:
Comments & Responses